Snowy Range Showdown Schedule
Snowy Range Showdown is scheduled for October 30-November 1, 2020
2020 Snowy Range Showdown Registration Form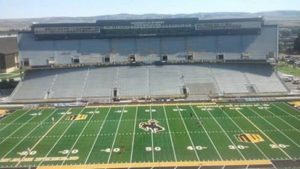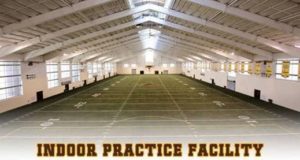 Dear Coaches and Recreation Program Managers,
We will be hosting the 7th Annual Laramie Youth Football Program Snowy Range Showdown, October 30-November 1, 2020 in Laramie.  This is a football tournament for youth football players in 6th grade (although 5th graders may also participate).  The teams that generally participate are largely All-Star teams.  Regardless, we recognize that league winners or individual teams may also have interest in playing and are of course welcome.
All games will be played on Jonah Field (weather permitting) or indoors at the University of Wyoming's Indoor Practice Facility (IPF).  Teams are guaranteed two games.  The games are played on a full-sized field and officiated by experienced crews of High School and Junior High referees.  We follow WHSAA football rules except as modified below.  We do consider team feedback regarding the rules and will make changes if acceptable to the majority.
In the past we have reserved blocks of rooms for families at hotels within walking distance of the IPF.  We will again be reserving rooms for teams once we finalize who will be coming.
Past participants have been: Rock Springs, Green River, Gillette, Rawlins, Cheyenne, Cody, Laramie, and Billings, MT.  We can accommodate a larger # of teams – generally we've had 8 teams.  It is our intention to give preference to returning participants  Regardless, first come, first serve.  We would love to see some area teams closer to Laramie participate.  The goal is to provide the youth a memorable competitive experience.
Email Dan or Heather for more information 
GENERAL RULES:
The Snowy Range Showdown follows the WHSAA football rules except as modified below.
TIME KEEPING:
Four 15 minute quarters will be played with a running clock (except after a score) and a 10 minute half time.  Clock will only stop during timeouts or at the discretion of the Umpire (e.g. injury time).
In the 2ndhalf if there is a 21 point spread the clock will not stop during a timeout.
SCORING:
If the score is tied at the end of the regulation game, play will continue through four (4) downs (or score) for each side.  Upon the toss of a coin, the winner of the toss may elect to go on the offense at the opponent's ten (10) yard line, or defend on their own ten (10) yard line.  After the offensive side's four (4) down (or score), the opposition takes possession and has four (4) downs to score.  If either side scores, it may attempt extra points.  If tied after 2 overtime periods (both teams have the ball twice), each teams extra point attempts must be passing plays.
MISCELLANEOUS  (this is being discussed as to whether to have a "pool" where weight is not limited and a "pool" where weight is limited for ball carriers.)
Weight limit 120 lbs.  No player in excess of the weight limit will be allowed to advance the ball by means of a set play.  They will also not be allowed to line up or play in the backfield or any end/receiver position except in a position as a blocking end.  On kickoffs, players over the weight limit must be in the front line and cannot advance the ball if it is kicked to them.   Players over the weight limit will only be allowed to advance the ball in any interception or fumble recovery situation. Coaches are on the honor system related to the 120 pound weight limit for players carrying the ball.  We will have a scale at the field if there is a perceived problem.
Each team is afforded three (3), sixty (60) second time outs per half.
We will use a junior size football, but, teams are encouraged to bring their own ball they would like to use on offense.  When a team is on offense they can use the ball they bring with them.