Laramie Youth Football 2018
Kicking off another fall with the youth of Laramie!!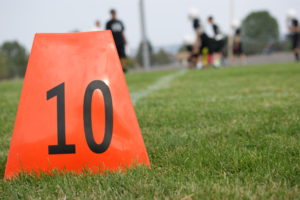 Snowy Range Showdown is scheduled for October 26-28, 2018
Mission Statement:
The Laramie Youth Football Program is a non-profit organization that supports, encourages and enables youth to benefit from participating in football in a safe and structured environment.
Through our program we teach sportsmanship, fundamentals, teamwork, skills and knowledge that youth will use throughout their lives.
Registration:
2018 Season Dates:
Equipment Checkout on August 8-9, 5:30-7pm.
Practice begins Aug 13th at the New High School. Players need to attend four practices before playing their first game.
Season Concludes September 29th, unless your child is chosen to play in the Snowy Range Showdown Oct 26-28.
Serving Ages:  4th-6th Graders (4th Graders play separate from 5-6 graders)
Fee Schedule: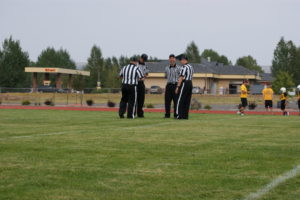 $100 if registering through July 31
$125 if registering after August 1
Limited scholarships available upon request by completing application form.
Equipment:

Helmets, shoulder pads, pants (with pads), and game jerseys will be provided by Laramie Youth Football.
Players are responsible for mouth guards, practice jerseys, and shoes.
Equipment checkout will be August 8-9, 5:30-7pm at the Laramie Civic Center (South Entrance).
Schedule: 2018 Calendar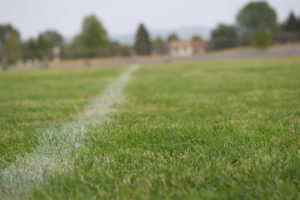 Practices start on August 13 at the New High School.  All players will practice together for skills assessment on August 13 through 16 from 6:00 pm to 7:30 pm.
Coaches will draft players on August 17 and will begin practicing as teams on August 20th.
NOTE: Individual team coaches will set practice schedules once teams are drafted.  Please connect with your child's team coach for practice times as they may shift week to week.
Players need to attend 4 practices before playing in 1st game.  After the first week, practices will be from 5:00 pm to 6:30 pm 2 nights per week with 1 game weekly.
Games begin the week of September 4th and continue through September 20

th

.
Playoffs will begin on Saturday Sept 22nd. Championship weekend is Saturday September 30th
Location:
New Laramie High School Practice Field for the week of August 13-16.
Old Laramie High School Practice Field (15th and Shield) for week of August 20th practices.
The following week, teams will practice at assigned locations.